DJ Sabby's show, #TheBestDrive on YFM has been announced as a finalist at the 2017 Liberty Radio Awards in the Afternoon Drive Show category.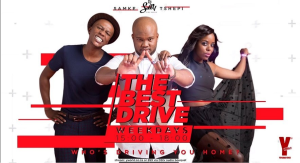 The Liberty Radio Awards aims to present a credible programme with the objective of ensuring that radio remains one of South Africa's foremost media choices.
Over 91% of South Africans interact with radio on a weekly basis – more than any other media category. The Liberty Radio Awards seeks to motivate radio people and organisations to raise the bar in terms of their performance; with a firm focus on keeping their listener engaged and happy.
"Hosting a prime time show on YFM has always been part of my career goal, and to have been doing the show for 11 months with an impeccable team has been the greatest tool to winning every show. I am beyond excited with this nomination, as it reaffirms that what we offer our audience is being recognised by the market, and by the judges of the Liberty Radio Awards, are of high quality standards," says DJ Sabby
"I think being nominated is a great achievement. This does not eliminate the goal to win the award, as that would be a great accomplishment. Of all the commercial radio stations with great talent on air and having made the cut of being shortlisted in the top six, that for me is beyond dope. We're definitely doing something great on air," he adds.
For more information, visit yworld.co.za.