vida e caffè is more than a brand. It is a story of how a commitment to flavour, quality, and people has seen a single store expand across Africa. vida e caffè opened its first coffee shop in 2001. It's lively atmosphere captured the heart of South Africans and led to its steady spread across South Africa. The brand celebrates its 15th birthday this year.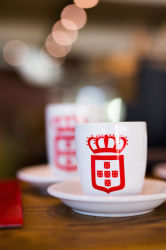 "vida was the distillation of the learnings we took from a previous business and we matched opportunity to our passion, to give people the experience we wanted ourselves," says Brad Armitage, co-founder of vida e caffè. "We didn't have this concrete five-year plan in place, we just wanted to make something we loved and which other people did too. The vibe that grew out of vida e caffè had so much to do with the product and the staff. I still remember overhearing people say they were 'going for a vida'. It was a huge compliment."
Darren Levy, CEO says, "It is a brand and experience which is synonymous with living life and loving coffee. Of course, this is precisely what the name means: Life and Coffee."
vida e caffè is one of the South African pioneers, driving the first wave of popularity for the high-street espresso bar in South Africa and leading the way in the country's sudden explosion into coffee couture.
The flavour has been carefully selected from the start and every aspect of the flavour profile is chosen and constantly monitored to ensure a burst of rich, aromatic flavour. The vida e caffè Estrela blend uses only Arabica beans as they are known for their quality and rich profile. The beans are also low in caffeine which allows coffee connoisseurs to appreciate the taste throughout the day.
The brand has over 200 stores in South Africa of which 136 are in Shell forecourts, and retail or convenience outlets. The rest are in corporate office buildings, parks, and on the high-street, or the mall. The corporate footprint includes big companies such as Standard Bank, The Foschini Group, and MTN.
The company has expanded into 15 stores across the continent since 2012. You can find its coffee in Ghana, Kenya, Mauritius, and Botswana.
The company started a number of loyalty reward schemes which have had a huge impact on the brand and the people who use it. Loyal customers are rewarded through a mobile rewards programme which allows users to pay through the app and earn points. This is made even easier thanks to the free Wi-Fi, as stores become more than just a conveniently located place to get your coffee, work or socialise. Customers need only log in, download the vida app, enter their card details, and get shopping.
Levy says, "Almost everyone has a mobile phone so it made sense to take our loyalty programme to a mobile platform. It provides great convenience to our customers who can instantly connect with us and we can make sure they always have access to the latest deals and offers."
In addition, a new partnership with Discovery has evolved putting vida's flavour onto the South African map. Thousands of Vitality reward members are reaping the rewards of their work by opting to get a free vida coffee.
The expansion into Shell garages has seen vida and its sibling brand, Torrador by vida e caffè, take off and many customers have grown to appreciate its availability. The Torrador brand ensures that the commitment to coffee is upheld throughout all Shell stores. The convenience and cost have opened the way for new consumers to engage with the brand, without compromising on quality.
"Shell had invested in upgrading its store formats and non-fuel offers over the past few years and, after considering numerous potential partners from both SA and abroad, vida e caffè stood out for them as the right choice," says Levy. "This is due to the critical role we have played in creating and establishing the coffee culture in the country."
For more information, visit vidaecaffe.com.