The Ultimate Braai Master, which has carried away the Best Reality TV award for the last four years in a row, was nominated again at this year's South African Film Television Awards  – another accolade to the awards won by the South African Branded Entertainment Company and Cooked in Africa Films.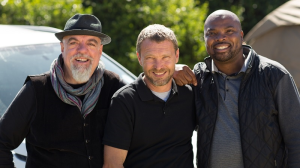 Executive producer, Peter Gird, says, "It's always such a pleasure to be recognised for doing great work, which would not be possible without the army of support that we receive from so many people. In particular, our sponsors, who have been so supportive, and of course, the 65 crew members who give up two months of the year to travel some 9 000km around this beautiful country – not forgetting that a TV show like this would be nothing without amazing contestants, who put their lives on hold for the love of the 'braai'."
The Ultimate Braai Master, currently showing on e.tv on Sundays at 16:00, is about to launch season six due to high demand. The show reaches on average 1.5-million people per week, and gets broadcast to over 100-million homes around the world.
Hosted by co-creator and bush cook, Justin Bonello, and introducing new judges Pete Goffe-Wood and Benny Masekwameng, the trio have many additions and twists to the television programme in the forthcoming season.
A significant development is that the format rights for the Ultimate Braai Master have been acquired by distributer TVF, in London, who believe that the show deserves its rightful place on the world stage. The Ultimate Braai Master's first international format deal will be concluded in Brazil, making it the first home-grown show to have travelled outside of the country and onto global markets.
"It's a wonderful achievement for our company, and we are very proud of this show because it is made with love, passion and a whole lot of gees." says Gird.
For more information, please visit www.ultimatebraaimaster.co.za.