The top brands in South Africa's townships were revealed in a Daily Sun supplement on Tuesday, 16 May.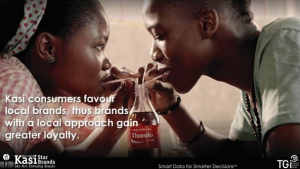 Ask Afrika conducted a comprehensive
nationwide survey
with a sample that is representative of the township population, comparing brand usage across 144 product categories and ranking 2 996 brands.
The overall 2017/2018 Kasi Star Brands winner and favourite township brand is Coca-Cola, with KFC in second place, Kiwi shoe polish in third, Koo beans in fourth and Mageu No 1 in fifth. Coca-Cola has been the top township brand for two years running.
Methodology
All nine provinces were included in the sample of 4 403 Kasi consumers, representing the view of 9.3 million Kasi consumers across South Africa. The results were independently audited by BDO and Dr Arianne Neethling and verified by township market professionals, GG Alcock.
What drives brand loyalty in the Kasi?
The Kasi market remains a price-sensitive market. They live in an unreliable, and in many cases, an unsafe environment. An investment in high-quality brands provides a sense of reliability and assurance to the Kasi household.
The top trends of the Ask Afrika Kasi Star Brands survey reveal a number of loyalty drivers that brand owners and marketers should bear in mind when targeting this market.
Brands are a 'cheap price' for aspiration
The Kasi shoppers always look out for special offers, but if they like a product, they will buy it regardless of price.They are open to trying new brands to see if they like the product, but once they find a brand that they like, they tend to stick to it. Kasi consumers will, however, try out a different brand if it is on special offer.
"Kasi consumers expect quality and usually have a brand repertoire within their loyalty spectrum, which they will compare in terms of price points and special offers. They understand the advantage of choice and will choose the best their money can buy. If a brand consistently delivers quality at the right price point, it will be used by Kasi households," says Dr Amelia Richards, account director at Ask Afrika.
Proudly South African
Kasi consumers opt to buy goods that are produced locally, believing that South African products are usually of high quality. They think that it is important that brands act ethically and refuse to buy products from a company that they disapprove of. Kasi consumers support brands that empower previously disadvantaged South Africans.
"The Target Group Index (TGI) data has shown that Kasi consumers are very loyal to South African heritage. Tradition and community are important in the Kasi where people take care of one other. They expect the same from brands that they pay money for," adds Richards. "There is a misconception among those that don't know the market, that when Kasi consumers become more affluent, they become westernised."
According to GG Alcock, this is not the case. Greater affluence does contribute to modernisation, yet township residents often stay close to their cultural and local South African heritage – they become 'Afropolitan'. Brands that want to be successful in this space must first understand the culture and then contribute towards it in a meaningful way.
Never underestimate the Kasi consumer
Living and doing business in African marketplaces require an ethos and connection to the informal, invisible, and intangible. It is vital that marketers targeting this market have an in-depth understanding of this continually changing environment and lifestyle.
Many Kasi consumers travel to the cities for work and see the way that brands are being advertised there. It is vital not to denigrate the Kasi consumer through inconsistent brand messaging and tone of voice in cities versus townships.
Sharing and CSI
Brands that share what they achieve in empowering and uplifting disadvantaged communities through their CSI initiatives will garner loyalty from the Kasi consumer.
Not only did the KFC 'Add Hope' campaign feed 5 million children during World Hunger month, but it feeds 110 000 children every day. In 2016 the KFC initiative included the unveiling of the wall mural on Vilakazi street in Soweto, increasing awareness for the campaign. The residents can collect seeds from the tree mural on the wall, encouraging them to grow their own vegetables and fruit.
"Brands that connect and identify with the language, the culture, and local style will win over the hearts of Kasi consumers. Respect is inherent in the Kasi culture as are ethics, caring for the past and present, hope, and a belief that we will all build a better future as a collective – brands are expected to be part of this ethos," concludes Richards.
Research reports
In-depth Ask Afrika Kasi Star Brands research reports assist with brand planning and marketing strategies, competitive intelligence, consumer profiling, product enhancement, and client pitches. There are various reporting options that look at what is driving loyalty in the township market, or which are tailored to media and marketing strategies that target the township consumer.
For more information, visit www.askafrika.co.za.