The seventh season of Tropika Island of Treasure is set to air on SABC3 from March. Hosted by Minnie Dlamini, this season will be taking place in the Seychelles. media update chatted to Miantha Padaychee, brand group manager at Tropika, about the continued success of the series and what viewers can expect in season seven.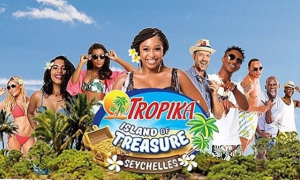 By Darren Gilbert
First airing in 2008, Tropika Island of Treasure features South African celebrities and members of the public competing on an island location for a cash prize. Previous winners include TV presenter and model, Shashi Naidoo, who won season two, and hip hop artist Da L.E.S who won season five.
Tropika Island of Treasure is gearing up for yet another season this year. Why do you think this series has done so well?
I think that one of the many reasons that the reality series is such a hit is because it is so aligned to who we are as a brand – Tropika is a lifestyle – it's all about the sandy beaches, the breeze in the palm trees, and that 'extra smoooth' experience.
Tropika Island of Treasure is owned by the Tropika brand. We are the only brand in South Africa to run such a successful campaign over such a long period and we're so proud of that.
How has the series managed to ensure positive brand talk-ability over the last six seasons? Is there a recipe for your success?
It's important for us that each season is more 'wow' than the next – we need to introduce the unexpected and create that excitement for South Africans where they can't wait for the next episode.
When this season ends, we want viewers to say 'I wonder what's going to happen in season eight – how can Tropika top season seven?'
How has the success of the show impacted on the overall brand of Tropika?
The Tropika Island of Treasure platform promotes the lifestyle that the brand is associated with: escapism, island life, white beaches, palm trees swaying in a balmy breeze, and sunny days that go on and on – this is paradise.
The celebrity element contributes to making our consumers' dreams come true and that's what Tropika is all about as a brand.
What were some of the highlights from the last six seasons? Can we expect more of the same or have you placed a new spin on the upcoming season of Tropika Island of Treasure?
Tropika Island of Treasure has always been associated with awesome celebrities but, this season, the celebrities that have been selected will appeal to the entire South African population – they all have very different fans and personalities.
The celebrities and their chosen partners will team up to compete against one another on the island to stand their chance to win R1-million.
I don't want to give too much away about this season. I guess you will have to tune in to see for yourself.
What has been the biggest challenge faced in shooting this series?
We have an incredible team that is dedicated to making this season a massive success. We haven't faced any challenges that we couldn't overcome in a couple of minutes. It's about coordination of all that's going on, more than anything else and we've had such fun.
To make this series a success, our aim was always to have a cast that would make South Africans reach for their remote and this season we have that. I'm so excited for the series to air.
Where can we find out more about the show? When does it air? And who can we expect to see when we switch on our television?
Minnie Dlamini is our host. Jonathan Boynton-Lee is our games master. The celebrity contestants include Maurice Paige, Zakeeya Patel, Siv Ngesi, Karlien van Jaarsveld, Emtee, Jessica Nkosi, and Anga Makubalo, better known as NaakmusiQ.
This season will air from 27 March to 19 June. There are 13 episodes and the series can be watched on SABC3 on Mondays at 20:00.
For more information, visit www.tropika.co.za.