On Sunday, 23 April, Capitec Bank will once again join The Color Run as the headline sponsor. The theme encourages runners young and old to step into spandex and don capes and masks while participating in the 'Happiest 5K on the Planet'.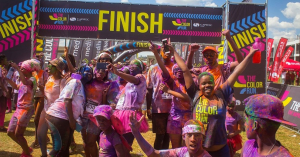 "The world debut of the Superhero Tour will be happening in Soweto, South Africa," says Charl Nel, head of communications at Capitec Bank. "We are encouraged by being a part of this movement that has inspired thousands to put on their takkies, get active and support their communities across South Africa and the world – The Color Run is known as the 'Happiest 5K on the Planet' – and it's easy to see why."
"Participants are encouraged to use The Color Run as a platform for good. Whether it's raising awareness for a good cause, or raising funds for charity or even simply acknowledging that you live with supermom, this year we celebrate the superhero in us all," says national event coordinator, Trevor Latimer.
The Color Run is a five-kilometre, un-timed event in which thousands of participants, or 'Color Runners', are doused from head to toe in different colours at each kilometre. There are only two rules:
Wear white at the starting line; and
Finish plastered in colour.
After Color Runners complete the race, the event continues with the Finish Festival. This party is equipped with music, dancing and colour throws, which create various vivid colour combinations.
For more information, visit www.thecolorrun.co.za.