Thapelo Mokoena was recently announced as the winner of the Youth Achiever Award at the 2017 South African Film and Television Awards (SAFTAs), which look place on Satuday, 18 March at Sun City.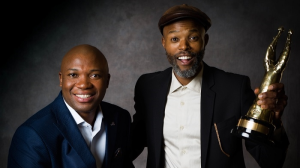 The
Young Achiever Award,
sponsored this year by Ster-Kinekor Theatres, was handed over to Mokoena by Wanda Matandela, CEO of the country's leading cinema exhibitor. The sponsorship is a further display of Ster-Kinekor's continued support of the local film industry, and the development of the exciting young talent therein.
"Thapelo Mokoena is a most worthy recipient of this inaugural Youth Achiever Award, and our sponsorship of this award is a very exciting development for Ster-Kinekor. The SAFTAs provides an excellent avenue for us to demonstrate our commitment to the flourishing South African film industry," says Matandela.
"But, more importantly, we are delighted to be sponsoring a new and innovative category that recognises and rewards the exciting young talent in our country who are destined to become the industry's rising stars of tomorrow," he adds.
"Focusing on growing the youth market is a key sector within our marketing strategy. This sponsorship opportunity further strengthens that strategy. It also gives us access to some of the exciting and developing talent within the sector, who are destined for future success."
Mokoena is a South African actor and television presenter best known for presenting the first season of the South African version of the reality competition, Fear Factor in 2005. He also played the role of Cedric Fatani in Wild at Heart from 2007 to 2012 and, in August 2016, he joined the cast of High Rollers on SABC3.
He made his big screen appearance as Elias Motsoaledi in the 2013 film that celebrated Madiba's life, Mandela: Long Walk to Freedom. Mokoena is now the owner of his own production company, Thapelo Mokoena Productions.
"We are looking forward to working with Thapelo, and exploring some interesting opportunities and collaborations with this creative talent going forward," commented Matandela.
"It is important that all sectors within the industry work together to ensure our continued commitment to the growth and success of South Africa's growing film industry. As such, our partnership with The National Film and Video Foundation (NFVF) to sponsor the SAFTAs category that focuses on youth achievement is our commitment to ensuring a healthy pipeline of talent and content into the future."
The Youth Achiever Award category is presented to a newcomer or young individual in the industry who has demonstrated excellence in their craft. The panel of judges, comprising members of the SAFTAs committee, CCIFSA, SASFED, SABC, M-Net, e.tv and StarSat, evaluated the nominees' submissions of work, their impact on the future of, and their development, the industry as a whole. The choice of Mokoena as the worthy recipient of this award was a unanimous agreement by the panel.
For more information, visit www.nfvf.co.za.