The night of Thursday, 19 January, saw Vodacom World host the second Cars.co.za Consumer Awards, powered by WesBank. A combination of consumer and judge input saw 13 cars acclaimed as the best in their category for 2017, with Suzuki walking away with the coveted Brand of the Year Award.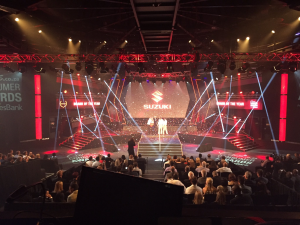 By Adam Wakefield
The awards, which grew from approximately 100 attendees in 2016 to 300 in 2017, took place within The Dome at Vodacom World, an appropriate venue for an awards show and brand that is solidifying its position as a truly South African authority figure in the local motoring industry. After invitees and nominees arrived and shared a pre-awards drink and catch-up outside the venue, funnyman John Vlismas was the man tasked with guiding the evening on the awards' purpose-built stage in The Dome.
Thirteen awards were dished out over the course of the evening, interspersed by the words of award-winning writer and advertising pro Khaya Dlanga, Google's Ines Jesus, and Cars.co.za's own Ciro De Siena, who introduced Senti-metal and The Journey, two new offerings joining the Cars.co.za content stable.
Pop act Flash Republic also put on a show for those in attendance, while Vlismas kept everyone on their toes with his characteristic wit, humour, and energy. The audience were also given insight into how the awards trophy and judging process works, with the entire show live streamed on YouTube.
Apart from Suzuki claiming the Brand of the Year Award, the other award winners were as follows:
Premium Hatchback Car of the Year – VW Golf GTI DSG;
Design Pure Excellence Car of the Year – BMW 750Li;
Executive Sedan Car of the Year – Jaguar XF 25t Portfolio;
Premium SUV of the Year – Volvo XC90 T8 Twin Engine Inscription;
Business Class Car of the Year – Audi A4 2.0T FSI Sport S tronic;
Compact Family Car of the Year – Suzuki Vitara 1.6 GL+;
Fun Car of the Year – VW Golf GTI Clubsport;
Lifestyle SUV Car of the Year – Land Rover Discovery Sport TD4 SE;
Compact Hatchback Car of the Year – Opel Corse 1.0T Enjoy;
Budget Car of the Year – Suzuku Celerio 1.0 GL;
Performance Car of the Year – BMW M2 M-DCT; and
Family Car of the Year – VS Tiguan 1.4 TSI Comfortline DSG.
It was a fulfilling evening for all those interested in South Africa's motoring industry, and judging by the awards' impressive growth in the space of just one year, it is not unreasonable to expect that they will be bigger next year.
For more information, visit www.carsawards.co.za.