In the robust marketplace of ideas where there can be so much noise and disquiet, it takes a certain breed of intellectuals, specialists and thought leaders to help make sense of the world. The newest series from Ritevac TV, Thought Leaders, sets out to identify these thinkers, minds, and voices to help unpack relevant issues of industry and different careers.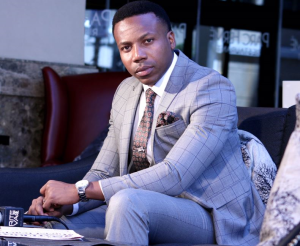 Presented by Rev Ngwenya, the show gets to the nitty gritty of practices, challenges, opportunities, and threats facing industries in this fast paced environment. The conversations between host and guest provide a snapshot bird's-eye view of the state of affairs.
Ngwenya describes himself as fun and curious, and says, "I like to extract more than just the obvious in my interviews. My aim is to dig deep into the depth of a person's intellect to get a proper answer to a question my audience may have."
In the first season, the focus is on media and communications. Over the seven episodes, a viewer gets to learn more from industry heavyweights including Bonnke Shipalana, CEO of the Communications Firm (TCF) and Jeremy Briar, founder and CEO of Total Exposure.
Other guests include Judith Mugeni, a strategic planner at Octagon SA marketing company; Vista Kalipa, founding director of On Point PR delves into the business of PR; gurus Melanie Ramjee, Simphiwe Majola, and Sindisiwe Mnguni also offer their insights on the goings-on of what may seem a glamorous space, but in fact takes a lot of thinking, planning, and strategy to execute successful campaigns.
Thought Leaders is aimed at a middle-class viewership aspiring to own a business or is business-minded and politically inclined. The topics resonate with a questioning mind. It's presented in a light hearted and easy flowing conversational tone.
For 30 minutes, the viewer gets in the mind of the expert as they learn more about their career, the company they work for or own, their general point of view of the industry, and nuggets of information they have to share.
Themba Ndala, founder of Ritevac TV and creative director of the series, points out that Thought Leaders closes the gap for young entrepreneurs who battle to find mentors and more information about their chosen fields. "It's hard to find content that is relevant to local businesses and speaks to their struggles and successes as they come up the ranks. ThoughtLeaders brings these role models closer to young entrepreneurs to learn from and be inspired by them," Ndala says.
Ngwenya adds that the show will be interactive and viewers may send through queries and questions via the website and experts will respond and advise.
Watch the latest episodes of Thought Leaders online here, every Sunday at 16:00.
For more information, visit www.ritevac.tv.