PUMA SELECT Johannesburg is moving into the PUMA store on the Corner of De Korte and Melle Street in Braamfontein, Johannesburg where it will open for trade on Friday, 7 July as a platform for PUMA to showcase collaborative works and offer limited edition collection pieces.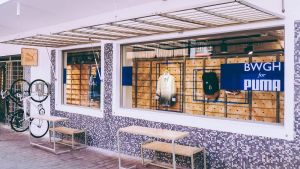 PUMA SELECT will be distinguishable within the PUMA store. This is in keeping with other SELECT areas within PUMA stores internationally. The design of the SELECT space will include access to an internal courtyard, which will host events such as the ongoing SELECT X STORIES series.
"We are looking to streamline our Braamfontein retail offering by placing SELECT within our PUMA store, which is one of our flagships in South Africa. PUMA fans will now be able to shop our mainline offering as well as our premium streetwear within the convenience of one store," says PUMA South Africa's marketing director, Brett Bellinger
Over the years, SELECT has featured collaborations with local and international brands, stores, designers, artists, and musicians, and will unveil three new collaborations in the upcoming season.
"We've been honoured to work with the likes of Rihanna and The Weekend who have emerged from being Brand Ambassadors to design collaborators with PUMA. Similarly, we've worked with the likes of Mikey Trapstar, the Daily Paper crew and Jeff Staple. Collaborating with these individuals has resulted in a product offering that is both sincere and personal which is something that is carried through to our consumer," adds Bellinger.
SELECT will continue to operate at 81 Juta Street until Friday, 30 June. When it moves into the PUMA store on De Korte Street, it will open for trade from Monday to Friday from 09:00 to 18:00, on Saturdays from 09:00 to 17:00, and Sundays from 09:00 to 13:00. PUMA SELECT in Cape Town will continue as a standalone on Bree Street.
For more information, visit www.pumaselect.co.za.