Nu Metro Cinemas has confirmed that it will be screening Fifty Shades Darker, the sequel to the runaway box office hit Fifty Shades Of Grey, on Wednesday, 8 February and Thursday, 9 February at special pre-release screenings ahead of the film's international release date.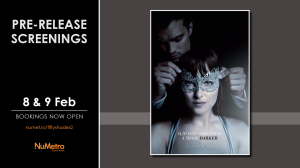 Nu Metro broke sales records when it did similar screenings of the first film in this erotic drama-franchise two years ago. Ticket sales for Nu Metro's Girls' Night Out (GNO) screenings of the movie on Tuesday, 7 February have already reached sold-out status for most cinemas nationwide – two weeks before the event is taking place.
Fans of the bestselling Fifty Shades novels have been waiting anxiously for the return of Christian Grey to cinemas. Fifty Shades Darker, which is based on the second E.L. James-novel in the series, promises to expand the world of Fifty Shades with even more romance, drama, and erotic adventures set against luxurious backdrops.
The sneak pre-release screenings will take place at all Nu Metro cineplexes nationwide and will be scheduled for all showtimes throughout each of the days. Bookings are also open for Scene VIP cinemas at selected Nu Metro's cineplexes. Scene VIP is Nu Metro's deluxe in-cinema dining option – apart from luxury recliner seating, lounges, bars (at selected cinemas), and enhanced upmarket facilities, a new a la carte Scene VIP food and cocktail menu were also recently launched.
The GNO-screenings of Fifty Shades Darker will take place at all Nu Metro Cinemas nationwide on Tuesday, 7 February. This event starts at 19:45, with the film screening at 20:45.
Please note that access to Girls' Night Out-screenings at Nu Metro's cinemas are open to women only, but the sneak previews are open to all cinemagoers (pending relevant age restriction for the film).
For more information, visit www.numetro.co.za.