Nu Metro Cinemas has opened a brand new eight-screen cinema complex at Ballito Junction in KwaZulu-Natal, which opened to the public on Thursday, 23 March.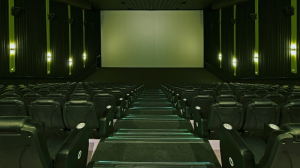 The new multi-format cineplex includes the first ever Xtreme cinema for the province, and also introduces two VIP cinemas, with an extended lounge area.
Xtreme at Nu Metro Ballito Junction features Ultra High Definition (UHD) digital projection. It also features a Dolby Atmos sound system, making it the fourth Dolby Atmos-equipped cinema in South Africa.
Dolby Atmos delivers 360-degree sound, including overhead speakers and an array of speakers placed strategically throughout the cinema.
Nu Metro now offers movies in a variety of formats, such as 3D and 2D in cinemas equipped with high-quality projection and audio systems.
Nu Metro Ballito Junction has two VIP cinemas. VIP upgrades the movie experience to first-class, with recliner seating, a VIP lounge and bar, and an à la carte menu prepared in Nu Metro's own kitchen. The VIP lounge also doubles up as an event venue, and is available for hire for corporate and private functions.
"We've entered a new era in movie-going by significantly improving the level and manner in which movies are viewed, along with the overall experience. We've led the way with multi-format cinema options at most of our cineplexes nationwide. We're excited to introduce our Xtreme brand in KwaZulu-Natal, following its success in Johannesburg, Pretoria and Cape Town," says Nitesh Matai, Nu Metro's managing executive.
Xtreme cinemas are able to showcase films in full 4K UHD on a large screen. 4K is the highest resolution available in studio films, and is enhanced by RealD's Precision White™ screen technology.
Dolby Atmos soundtracks combine multiple levels of audio. Audio effects are processed digitally and placed within a 3D space aided by an array of speakers, including overhead, throughout the cinema.
Nu Metro Ballito Junction also has a dedicated stand for popcorn; Poptopia. The cineplex features new interior décor, contemporary seating design, a counter service, and many other features.
For more information, visit www.numetro.co.za.