In the vibrant centre of the Johannesburg CBD, the launch of the #MZ17 eBook took place. Millennial Zeitgeist (#MZ17) is the brainchild of Touch Central's creative director, Arye Kellman, and gives a voice to millennials on issues that matter to them.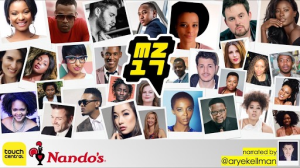 By Aisling McCarthy

"#MZ17
 creates a platform for people to listen to millennials for a change, and for millennials to listen to each other," says Kellman.
After a tour of Nando's Central Kitchen (head office), highlighting the values of Nando's and why the partnership with Touch Central was such a good fit, Mzwandile Ngubeni began the presentation. Ngubeni, internal marketing manager of Nando's, spoke about the importance of millennials and that Nando's has always believed in giving people a voice.
After a few short videos regarding the focal points of the #MZ17 podcasts, Kellman gave his address.
"I've invited you here tonight for the launch of the #MZ17 eBook, but the truth is – there is no eBook."
The group of millennials and non-millennials all had the opportunity to contribute towards the eBook. Kellman said that considering the nature of the podcasts, all the attendees would have the chance to become a content creator.
"We're going to watch a super inspirational video and do the most esoteric thing ever."
Kellman said that Casey Neistat's video spoke to the underlying thought behind #MZ17 – encouraging people to "do what you can't". The video speaks to the crux of what being a millennial is about – dealing with new problems in a new way. Neistat says that with a phone, access to the internet, and a good idea – anything is possible.
Kellman then encouraged the group to share some words of wisdom on any of the podcast topics; fame, love, passion, purpose, success or social media. He emphasised the importance of sharing ideas and listening to others, citing Jimi Hendrix's words, "Knowledge speaks but wisdom listens."
Once everyone had made their submissions for the eBook, a feast of Nando's was served, with everyone sitting at one big table to encourage conversation.
The six podcasts and short documentaries are available at mz17.touchcentral.fm