MonArk will be playing at the Franschhoek Cellar on Sunday, 23 April at 15:00. Franschhoek Cellar has hosted some of South Africa's top acts, including Watershed, Ard Matthews, Prime Circle, Arno Carstens, the Parlotones, and now, MonArk.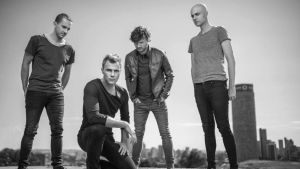 The shows have been curated by James Stewart and Martin Myers, with support from Paul Bothner Music, Franschhoek Country House, and Villas.
Sound design and operation of each show will be done by Abdul Burton, with Eugene Coetzer's vocal delivery and Ewald Jansen van Rensburg's production style.
The band has released the following South African singles, which made the top charts on the radio, including; Smiling (5FM Top 3) Build It Up (5FM Top 5, number one on JacarandaFM, 947, KFM, AlgoaFM, and OFM); Something (947 and KFM Top 10 and OFM and JacarandaFM Top 5); and You Make (AlgoaFM Top 20 and ECR Top 40).
Their debut album, NEGATIVES, was released worldwide in July 2014 and peaked at number one on the iTunes Album Chart on its release day. Their latest single, Hush, was released in May 2015.
The band was formed when producer Ewald Jansen van Rensburg teamed up with friend and vocalist, Eugene Coetzer.
The band officially formed in August 2012, and was nominated for a MKAward in 2014 for Best Newcomer, along with being chosen as one of the artists in iTunes' 'New Artist in 2014' campaign.
The band was also recently nominated for Best Pop Album, as well as Record of the Year at the 2015 South African Music Awards (SAMA's), along with a nomination for Ewald Jansen van Rensburg for Best Producer for the NEGATIVES album.
MonArk performed on several stages in the country, including 94.7 Joburg Day, KFM 94.5's KDAY, Splashy Fen, KKNK, and the Durban Botanical Gardens.
You can book tickets here.
For more information, visit www.monark.us