Food Network has launched its #MakeItSibalicious social media campaign, inviting fans to submit recipes to appear in Siba's Table's 2018 series on the network.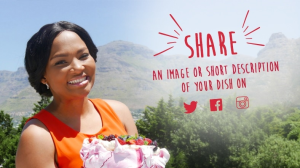 Running for the month of March, the campaign is being promoted across Food Network South Africa and Siba Mtongana's
Facebook
,
Twitter
and
Instagram
accounts. To enter, fans and foodies must send images or short descriptions of dishes they'd like to be made 'Sibalicious' using the hashtag #MakeItSibalicious.
The chosen recipes will be remade with a Siba twist and featured in the show.
"I have always hoped to somehow involve fans and audiences in the production of a series, as I have had so many requests for this to happen," says Mtongana. "I'm super delighted we are taking this current approach. This is a thoroughly contemporary production with a mix of social media, digital trends, wonderful food and creative ideas that allow me to engage with foodies throughout Africa, without leaving my kitchen."
Siba's Table: Sibalicious! will air in early 2018 on Food Network, channel 175 on DStv with Mtongana presenting 10 half hour episodes, this time with a different and innovative format that encompasses South Africa and beyond.
For more information, visit www.foodnetwork.co.za.