The new Plus 1 Festival will be taking place from Friday, 17 February to Sunday, 19 February at the recently refurbished La Paris Estate in Franschhoek.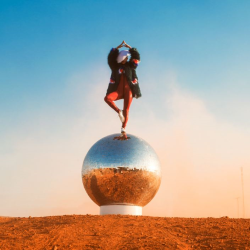 This 'festival of love' can be attended for the entire weekend or just for one of the three days, with a fantasy-themed Happily Ever After Party. The theme is inspired by the idea of marriage and how a couple who make these vows to one another chooses to be with the one that stole their heart 'till death do us part' for a lifetime of happiness – the ultimate fairytale.
Those attending can expect live performances from local acts including GoodLuck, Euphonik, Mi Casa, and The Kiffness, and for the first time in South Africa, DJ Lovebirds from Berlin will be performing.
As the Plus 1 Festival will be celebrated as a marriage between contemporary art and music, South African original artworks will also be displayed in the winery, turned into a gallery for the weekend. Furthermore, five large art installations will be placed on the picturesque estate as a symbol of love. Examples of this will include a Steam Punk Bride installation at the dam and an almost six-metre tall Eifel Tower.
Greg Lipton, Plus 1 Festival director, says, "This all new festival invites discerning party goers from all over South Africa and the world to come to one of the most beautiful settings on earth in order to get lost in this enchanted playground – effectively when art marries music. Everyone over 21 is invited. So for lovers of talented artists, artisans, bands, chefs, designers, DJs, and for those that enjoy living life to the max, the Plus 1 Festival invites you to find that special someone or gather your crew to come and indulge in a fun-filled fantasy themed dress up party that has everyone excited."
He adds that as art and music are stylish and fashion forward, those that attend should plan their outfits wisely. "'Fantasy Friday' is the stag and hen parties, so prepare for all kinds of sexy. Saturday will be the big celebration, while Sunday is funday to picnic and chillax," Lipton says.
Lipton adds, "This is going to be the ultimate happily ever after event ever. Picture a mixture of romance and spectacle to the max as only a Disney film directed by Quentin Tarantino would be. That is only a hint of what to expect."
For more information, visit www.plus1festival.com.