It is December and that means it's Joburg Style Best Of issue, incorporating the Shopping Annual, gift ideas, the city's top shopping destinations, watch publication 24H, fashion by Marianne Fassler, and holiday ideas. Meanwhile, in his first cover appearance, Cassper Nyovest says, "Keep working. Keep focused. Keep humble."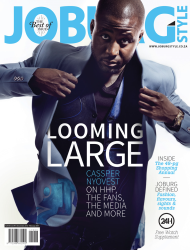 Photographer Musa N Nxumalo captures the Johannesburg urban youth culture melting pot in a raw way. Note this photo essay is not for sensitive readers.
In the Big Read, Harvey Khumalo gives a passionate account of his blesser/blessee relationships.
Maboneng has proven to be a Cool District with great restaurants, markets, and an all out Joburg vibe
Staying with local travel, fly fishing adventures have become a favourite choice for vacationing and letting loose, as Eric Bornman found out.
As usual, JList is jam-packed with good-looking restaurants, milkshakes, hangover breakfast spots, outdoor exercise ideas, galleries, long lunch spots, healthy eateries, and what to do with the kids.
The Shopping Annual comprises comprehensive gift lists of art and design ideas, liquor, kitchenware, grooming, kids, and travel.
For more information, visit www.joburgstyle.co.za.