Hot 91.9FM, in association with e.tv, has confirmed that they are hosting a Mothers Day Concert at the Johannesburg Zoo on Sunday, 14 May.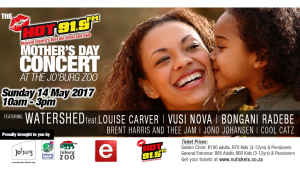 The Hot 91.9FM Mothers Day Concert will feature live acts such as Watershed, Louise Carver, Vusi Nova, Bongani Radebe, Brent Harris and Thee Jam, and Jono Johansen and the Cool Catz.
Picnic baskets are welcome.
The Mothers Day Concert will run from 10:00 until 15:00.
You can book tickets here.
For more information, visit www.hot919fm.com. Alternatively, connect with them on Facebook or on Twitter.