Johannesburg's multiple award-winning radio station, Hot 91.9, is set to be the official media partner of the 2017 Caravela Portuguese Festival.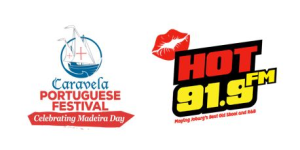 "Our association with the Caravela Festival is a natural fit and further underscores Hot 91.9`s ongoing commitment to the broader Johannesburg community," says managing director, Lloyd Madurai.
South African, Portuguese and Madeiran musicians will be on show at the Caravela Portuguese Festival, celebrating Madeira Day, which is taking place at the Montecasino, Fourways from Friday, 30 June to Sunday, 2 July.
Headline live acts set to perform over the three days include The Parlotones, Prime Circle, Locnville ,Goodluck, Dr Victor, and Kanimambo, as well as Portuguese and Madeiran singing stars Jose Malhoa, Alvaro Florenco, Roberto Adao, Joao Quanino, and Sidovia Silva.
The Caravela Portuguese Festival will also present some of the country`s dance DJs, including Paul and Luis Almeida, Rob Forbes, Vin Diesel, Dino Bravo, Sasha Martinengo, Mark Pilgrim, Nichole de Silva, Chriz Beatz and Vimo. The dance troupes of Poveiros, Casa da Madeira and Luso Madeirens will showcase traditional Portuguese dancing to entertain Festival goers.
Promoted by the Portuguese Forum of South Africa, the Caravela Portuguese Festival is a unique event in celebration of Madeira Day and aims to celebrate the history and culture of Portuguese speaking people from all walks of life.
You can buy tickets here.
For more information, visit www.caravela.co.za.
INVITE US TO YOUR EVENTS: zagossip@gmail.com
SUBMIT YOUR EVENTS: zagossip@gmail.com