The February issue of Fairlady is all about body confidence. The magazine's 11-page fashion spread features five plus-size models in a range of lingerie.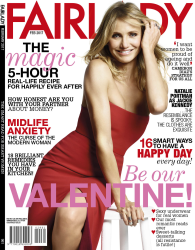 The energy of these five models on the shoot shines through the photographs. The message is clear: no matter your shape and size, every woman can look and feel sexy. No longer will the word 'curvy' or 'plus-sized' be associated with unflattering underwear. Most retailers are now stocking pretty and sexy underwear in bigger sizes, acknowledging that feeling confident and sexy is really all about being well-supported.
"The feeling on the set of this shoot was remarkable: warm, real, earthy, funny, supportive, and sexy – it was almost a glimpse of how women can and should be with each other when all the body-shaming nonsense is put aside. Being properly supported doesn't just apply to your underwear, it applies to society, too," says Fairlady editor, Suzy Brokensha.
The February issue of Fairlady is on sale now.