Sweep your partner off their feet this Valentine's Day at Lanzerac Wine Estate in Stellenbosch. Treat your partner to a picnic for two, an old school dinner or a wine and chocolate tasting for a Valentine's Day treat.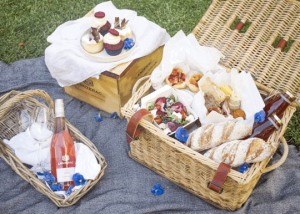 The lawn area above the cellar, with panoramic views of the Jonkershoek Valley, will be set out for the picnic. Included in the picnic basket is a selection of gourmet treats as well as a bottle of the recently released Lanzerac Dry Rosé 2016. The selection includes Neufchatel cheese with homemade sesame crackers, tomato and a sweet chilli sauce; a selection of home cured meats served with a peach pickle, biltong and nuts; a mini French artisan baguette served with cream cheese; and a crispy bacon, smokey paprika and Emmental heart shaped Quiche.
Complementing the picnic is a selection of sweet treats – shortbread hearts, rose Turkish delights, strawberries with a dark chocolate and Amarula dipping pot, and red velvet macaroon cupcakes. Pomegranate, lime, and apricot ice tea jars and the estate's Dry Rosé will enhance the flavours of the picnic treats.
The cost for the picnic is R550 per couple and will be made available from Tuesday, 14 February to Sunday, 19 February.
A special dinner is planned for Tuesday, 14 February at the Lanzerac Hotel with a three-course set menu of classic dishes. The cost for the dinner is R500 per person, which includes a welcome drink and entertainment.
The Wine and Chocolate Experience for Two, offered at the Lanzerac Tasting Room, is available from Friday, 10 February to Tuesday, 14 February (between 9:00 and 16:00) at a cost of R110 per couple.