Pupils across South Africa went back to school today, but one Durban learner turned heads by arriving in a chauffeur-driven Ferrari. It was a dream come true for 12-year old Olwethu Zikhali who won Freedom Stationery's 'First Fab Day Back to School' competition on East Coast Radio (ECR).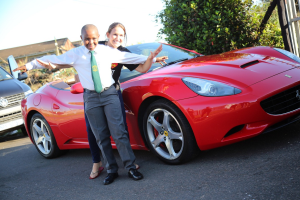 The grade six pupil was fetched from his home in Phoenix by 
East Coast Breakfast
 presenter, Keri Miller, and arrived at Greenbury Primary School in a convoy of vehicles. A marching band and cheerleaders escorted the pupil onto the school grounds where he was interviewed on-air by 
East Coast Breakfast's
 Darren Maule. The team broadcasted live from the school from 06:00 to 09:00. Zikhali couldn't contain his excitement when Maule and Freedom Stationery's sales and marketing manager, Shiraz Hans, revealed that his 2017 school fees have also been paid.
Zikhali entered the competition late last year, saying he would love to win the grand prize because he lives "with a single parent who cannot afford to pay school fees. My mum must also provide clothing and food so I'll be happy if I could win".
Freedom Stationery, Marlin, and Marlin Kids teamed up to make Zikhali's first day back at school a memorable one. As part of his prize, Zikhali also won a Marlin backpack valued at R500 and a school uniform. His classmates had lots to celebrate too, as each pupil received a stationery gift pack.
Speaking to Maule on-air, Olwethu said it was the best day of his life and he will treasure this moment "forever".
For more information, visit www.ecr.co.za.