DStv is set to be a partner of the 2017 Franschhoek Bastille Festival, now in its 24th year. The festival will take participants on a journey of all things French, including a mountain bike race, food, and wine, and so much more.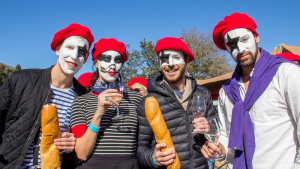 The festival now has the addition of a hospitality package inspired by Joie de Vivre, 'the joy of living', from Thursday, 13 July to Sunday, 16 July which offers guests the opportunity to extend their DStv Franschhoek Bastille Festival experience.
The package includes participation in a variety of mountain biking activities over three days, including the Contre La Montre, a race against the clock in the Franschhoek mountains, with difficulty levels to suit all mountain bikers. Also included is accommodation, access to exclusive functions, and meals as per the package, as well as day activities to enjoy some food and wine experiences available in Franschhoek.
The Food & Wine Marquee, open from Saturday, 15 July to Sunday, 16 July, is set against the backdrop of the historic Huguenot Monument, offering views of the mountain.Parking on the grounds allows for comfortable walking distance to and from town. Participants will be able to sample the Franschhoek wines on offer or the selection of gourmet fare available to purchase from some of Franschhoek's eateries.
In addition, the festival includes a caricature artist who captures the Bastille experience, the Porcupine Ridge Barrel Rolling Competition, and a dedicated children's area.
DStv channels and talent will be present at the festival. Further details will be available on the festival website from early July.
Tickets to the Food & Wine Marquee cost R280 person and include entry, a complimentary tasting glass, and a booklet of five wine tasting coupons. Additional coupons can be purchased on the day.
You can pre-book tickets here.