Deezer, a personal music streaming services, announced the launch of Deezer Next, a new programme aimed at identifying and championing emerging talent in addition to providing an avenue for exposure to new audiences on the Deezer platform.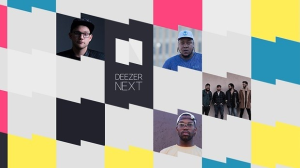 Deezer Next is a new initiative exclusive to Deezer users, which allows them to discover a hand-picked selection of new, emerging artists from South Africa and beyond. Deezer Next will promote these artists to new audiences and enable users to discover the next generation of artists.
The list of four Deezer Next South African artists can be found below:
Dominic Neill
Dominic Neill is a South African, Johannesburg-based pop musician who will soon be releasing his debut album that saw him travel to Berlin to work with Flume's world-renown producer, amongst others.
Raheem Kemet
Raheem Kemet is a young voice in the urban hip-hop and live performance scene. Hailing from Durban, he represents his city with his collage of sound and words. Kemet describes his career as 'a journey through sound'.
Southern Wild
Heavily focused on feel and progression, Capetonian rock group Southern Wild aim to give everything each time they hit the stage. Their same energy has been translated onto their debut album and promises a journey consisting of many layers and paths to its listener.
Robin Thirdfloor
Robin Thirdfloor (also known as Simphiwe Nyawose) was born in Durban and started rapping as an artistic release of emotions pent up from his personal experiences of being bullied. His previous releases show emotional depth and with lyrics that communicate positivity and the importance of loving yourself.
Globally, Deezer Next has already rolled-out its priority artists, who are Rag'N'Bone Man, Anne-Marie, and Maggie Rogers:
Rag 'n' Bone Man
Rag'n'Bone Man released his debut album Human in February, garnering the number one spot on the album charts in France, the United Kingdom, Ireland, Netherlands, Belgium, and Switzerland. The album includes the single Human (number one in eleven countries) and the current single Skin.
Anne-Marie
Anne-Marie'latestst single Ciao, Adios has entered the top 10 charts in the United Kingdom and the top 40 charts in Belgium, the Netherlands, Germany, Russia, and Hungary. She featured on the number one hit Rockabye by Clean Bandit, also featuring Sean Paul. Anne-Marie is currently supporting Ed Sheeran on the European leg of his tour.
Maggie Rogers
Maggie Rogers has been featured in a video on YouTube with Pharrell Williams where she played him her song Alaska. She released her EP Now That The Light Is Fading in February.
Deezer subscribers can look forward to releases from all four of these new artists, as well as additional exclusive video content and interviews. You can search #DeezerNextSA across social media platforms to find out more.