Corona SunSets' Johannesburg outdoor celebration kicks off on Saturday, 1 April 2017. Organising an event of this size is no small feat, but Shaun Duvet and Anheuser-Busch InBev are making it happen. Here's how and why they are putting this leg of the globe-spanning Corona SunSets Festival together.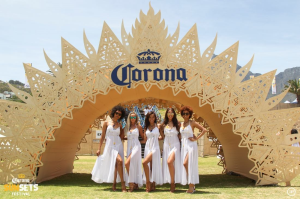 Media Update's
David Jenkin spoke to Gregg Fry, a senior marketing consultant at Anheuser-Busch InBev, and Duvet, who is a recognised name in the South African entertainment scene.
A renowned DJ, Duvet is also the co-founder and director of ULTRA South Africa, and owner and managing director of entertainment agency Anything Goes.
What does it mean for the Corona SunSets Festival to have a brand like Corona as a headline partner of the event?
SD: The Corona Sunsets Festival is an established global property that started in Ibiza a few years ago. To date the festival has been all around the world, from London to Japan, Mexico, Cape Town and next up is Johannesburg. The Corona Sunsets Festival series is an incredible property for Corona globally and in South Africa, as well as the local festival market.
It touches on all the right points for the brand of Corona: paying homage to the sunset, which fits perfectly well with an ice cold Corona and good music. It also gives us yet another great opportunity to bring some unbelievable international talent to SA music lovers.
The festival brings to life the transformative moment of sunset through music and culture, and Corona invites their fans to enjoy life and raise a bottle as the sun goes down – an uplifting and transformational moment when day fades to night and new possibilities appear on the horizon.
GF: Corona and the sunset go hand in hand, they are the perfect blend for accelerating the night. At Corona, we live and love the sunset moment daily. We love when the day turns into night. We live for the great outdoors, surrounded by like-minded individuals with great music setting the ambience.
What led you to decide to host the Johannesburg Corona SunSets Festival at Ground in Muldersdrift?
SD: The venue is beautiful and well-maintained.
In the crazy hustle and bustle of Johannesburg, it's great to be able to take a drive, not too far out of the city, and find yourself amongst rolling grass and open fields. The backdrop and views also make way for the perfect sunset, and that, coupled with the special touches that are synonymous with SunSets Festival brand, and Inspired by Corona's manifesto, 'This is Living'.
These touches include the festival market, the Corona Cocktails, the beautifully dressed hostesses, the outstanding musical line-up, sunset rituals and shows, beach games, local merchants selling handmade items, and golden sunset tattoo and body painting stations to initiate guests into the SunSets Tribe upon entry.
How far in advance would an event like the SunSets Festival have been planned and why?
GF: From the Corona point of view, we knew exactly what we wanted to achieve with the brand and after the overwhelming success we got when we hosted the Corona SunSets Festival in Cape Town, it was a no-brainer about bringing the festival to the heart of South Africa, Johannesburg, early in 2017.
After securing headline act Robin Schulz, we made the conscious decision to host the festival on Saturday, 1 April. The actual planning of the event kicked-off in the beginning of the year and now excitement is building up around the office as we speak.
SD: When we produced the Cape Town show we always knew that there would be a Johannesburg show to follow, we were just never sure when it would be. The conversation began at the start of 2016 and getting to grips and understanding what needed to be done took the full year of planning.  The show has a very intricate stage design and bringing the event to life required a lot of planning. Luckily, we have some amazing teams working on the festival, and the expertise required in producing such a successful first event in Cape Town has equipped us well for all future SunSets events.
What are the marketing challenges and opportunities when it comes to an event like the SunSets Festival?
SD: Like marketing for any event you need to know and understand your target market and how best to communicate with them.  You need to understand their patterns and preferred methods of communication and how best to use these authentically to engage with them. Marketing, especially event and entertainment marketing, is an ever-evolving puzzle and it is imperative to stay up to date with the best methods to communicate your message, and build relationships and trust with your audience so that message, when communicated, lands.
GF: The challenge we had when planning the Sunsets Festival was trying to get the public to believe that Corona could bring such a momentous festival to South Africa. After the success of our first SunSets Festival in Cape Town, it gave us that confidence to continue with the events and bring the festival to Johannesburg. We can't wait for Johannesburg music lovers to experience what Cape Town experienced, and even more.
A question for Shaun: As a person with a vast amount of experience on stage, when speaking to artists who you would like to have perform at the Corona SunSets Festival, or other events you are involved in, how much of an advantage is it to understand their point of view as a performing artist?
SD: When booking any artist, be it for a festival or a nightclub, you need to take everything into account. What target market are you appealing to? Which artist would suit that market best? Why would that artist want to play that show? What makes your show stand out to the artist and how can you maximise that artist's performance for your audience? In order for all the magic to work together, there really needs to be synergy with the artists and the full team, and long-standing relationships such as those built over years in the industry help more than you can imagine.
A project like the Corona SunSets Festival though brings with it long-standing relationships with their featured artists, like Robin Schultz, meaning that these artists know and love the brand already and have performed at Sunsets Festivals around the world. This means we already have an understanding of their requirements and can work together to ensure the artist, the audience and the brand are kept happy from start to finish.
For more information, visit coronaextra.co.za/sunsets.