Candy Tsamandebele Mokwena is making a musical comeback with her new album, Easy Come, Easy Go. The album is produced by Trevor Mabunda, who also produced Mokwena's 2009 album, Siki Five Cents.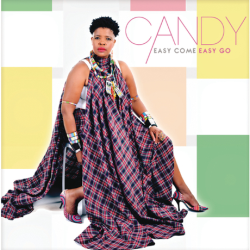 "My music has changed, people of late know me as a house music artist, whereas I can also do Afro jazz, Afro Soul, deep traditional, and many things musical. I am just 'an all-round' real musician, you can't guarantee what I will do next," says Mokwena.
"Afro-soul and folk world music is my favourite music. This is something I am passionate about. My album that I released in 2009, Siki Five Cents, was on that path. All these years I was waiting to get a good recording deal that would understand what I am about, musically speaking. My record label at Kalawa Jazmee loved the concept of the project and fully supported the direction I was taking."
Mokwena says the album will resonate with the masses. "People say charity begins at home. If you don't feel what you are doing, it will most likely fall flat. I have test driven the music on the new album, and when I play tracks like Mother's love, I notice how it pierces and takes over people's inner souls, and captivates their musical senses. Most of the tracks, whether sad in nature; positive; inspirational; or warm, they are about real-life experiences that people will resonate with, and I wish that they have a positive impact."
"I have learned through experience that what comes easy has a habit of disappearing just as easy, hence the album title. This is my way of saying 'what we work for, we tend to value more and treasure the most', hence it usually lasts for longer," Mokwena adds.
Easy Come Easy Go is available on iTunes, Google Play, at Musica, and Dakota Music Warehouse stores nationwide.