Brand inc's has collaborated with South Africa's Premier Soccer League (PSL). Over the past six months, the agency has partnered with the PSL to create top-end design for their major competitions.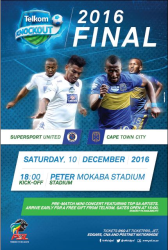 Alongside the Absa Premiership Division and the National First Division, the PSL administers three local cup competitions: The Top 8 (MTN 8), League Knockout Cup (Telkom Knockout) and the South African (FA-type) Cup (Nedbank Cup). Founded 20 years ago by Irvin Khoza, Kaizer Motaung, and Jomo Sono, the PSL is synonymous with sporting glory.
The national sports association wanted a fresh design for their three major competitions, The MTN 8; Telkom Knockout; and Nedbank Cup, and approached Brand inc for a new look and feel for various collateral that would also satisfy the numerous sponsors and clubs.
"Our designs are more visually appealing and we represented the different sponsors really well," says Brand inc senior account manager, Munzhedzi Makhuvha. "The client is an absolute pleasure to work with and is very happy with our work. We have just completed the designs for the Telkom Knockout Cup and then we will focus on the Nedbank Cup in January."
So far the agency has completely revitalised the MTN 8's accreditation passes, parking tickets, match tickets, and aide memoires as well as Telkom Knockout's match tickets and print ads.
Inside the sporting industry, Brand inc has also been creatively involved with other sporting greats such as the Orlando Pirates Football Club, Nashua Titans, SuperSport United, and the Springboks.
"We have been very keen for a long time to get our creative hands on some of the PSL work," says Brand inc MD, Chris Heaton.
"Now we have our chance to show what we can do and my design team has not failed to deliver beautifully crafted artwork for the collateral of some of the biggest soccer tournaments in South Africa."
For more information, visit www.brandinc.co.za