Ballantine's ambassadors, Black Motion, walked away with two SAMAs, for Best Duo Group and Best Dance Album.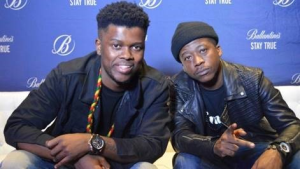 The platinum-selling duo recently embarked on a six-month campaign, Ballantine's Beat of Africa in search of sounds that make South Africa – and Africa – unique.
After collecting, curating, and collaborating the use of everyday sounds, rhythms, and beats, Black Motion have co-created the completed album, the Ballantine's Beat of Africa that is now officially available for download.
"When we are in the studio, we don't like to rush things. We take our time. We are not intimidated by the next big thing or act, we stay true to ourselves and we stay true to our music" says Black Motion.
Ballantine's wants to congratulate Black Motion for their SAMA success and for 'staying true to their sound and their roots'.
You can download Beat of Africa here.