AXE and DJ Black Coffee announce a partnership to find and showcase Africa's top house music talent on an international stage in Ibiza.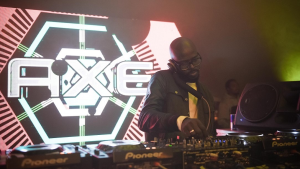 AXE has celebrated local and international hip-hop with two successful AXESS Jozi events, featuring local hip-hop acts, as well as hosting international rappers in South Africa. This year, AXE is not bringing international artists to South Africa, they're taking Africa's artists to the world with AXECESS IBIZA.
"AXE believes a man is at his best and most attractive when he finds his magic – that special thing that makes him unique. AXE believes in owning your thing. Black Coffee is an artist who has definitely found his magic – a proudly African beat that is dominating the world stage. But for Black Coffee, it's not all about personal success. He's on a mission to share local talent with the rest of the world. He is the perfect partner for AXE on our first pan-African campaign where we show the world what Africa has to offer," says Ryan Fauconier, brand manager for AXE South Africa.
In order to enter, participants need to upload their entry track to the Axecess website. A team of judges, including DJ Black Coffee, will evaluate the tracks and narrow down the entries.
Five DJ finalists hand-picked by DJ Black Coffee will compete at a send-off party in August, with the winner claiming a slot to perform with other African winners as well as DJ Black Coffee at Ibiza club, Hi Ibiza, in September.
AXE is giving participants the chance to win an all-expenses-paid VIP trip to AXECESS IBIZA. All they have to do is buy any AXE product, dial the USSD code and follow the prompts.
Five finalists will be selected to attend the send-off party, with a draw on the night deciding the winner that will be joining DJ Black Coffee and the DJs in Ibiza.
AXE is also introducing the 'Advanced Fragrance' collection to the South African market. The new addition is a range of grooming products, comprised of three lines; Signature, Adrenaline, and Urban – each line consists of cologne, antiperspirant aerosol, and roll on. These products offer a variety of benefits, including anti-marks, micro-active capsules, and silver technology.
"Masculinity is evolving and men are embracing and adapting a more modern attitude towards masculinity than ever before. AXE is growing with its audience and providing fragrances that suit their everyday lives," concludes Fauconier.
For more information, visit www.axecess.com.