American Gods, the most watched show in South Africa on Amazon's international Prime Video service, has been renewed for a second season.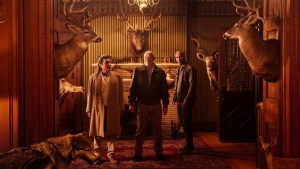 "We're delighted to bring the second season of Neil Gaiman's riveting story to fans across the globe," says Tim Leslie, international vice president of Prime Video. "Audiences have responded overwhelmingly to season one – it is stunning entertainment unlike anything else, and we can't wait for the next series."
Adapted from the award-winning novel by Neil Gaiman, American Gods stars Ricky Whittle (The 100, Austenland) as protagonist ex-con Shadow Moon, Ian McShane (Deadwood, Pirates of the Caribbean) as Mr. Wednesday, who enlists Shadow Moon as part of his cross-country mission, and Emily Browning (Sucker Punch, Legend) as Shadow's wife, Laura Moon.
American Gods season one also features Gillian Anderson (The X-Files) as Media, the mouthpiece for the New Gods, Kristin Chenoweth (Pushing Daisies, Wicked) as Easter, Pablo Schreiber (13 Hours, Orange Is the New Black) as Mad Sweeney, and Yetide Badaki (Aquarius, Masters of Sex) as Bilquis.
American Gods has garnered an overall rating of 8.6 on IMDb and a top critics score of 95% on Rotten Tomatoes. Episodes one and two of the first season are available on Prime Video, with new episodes released weekly, every Monday.
Amazon Original Series and movies and TV shows are available at an introductory price of $2.99 per month for the first six months and $5.99 thereafter. Members can watch via the Prime Video app on Android and iOS phones and tablets, LG and Samsung Smart TVs, Android TV by Sony or online on the Prime Video website. In addition, members can watch American Gods in multiple languages including English, Spanish, French, Portuguese, and Italian, as well as in English with available subtitles.
Written by Neil Gaiman in 2001, American Gods has been translated into over 30 languages and earned numerous accolades, including Hugo, Nebula and Bram Stoker Awards for Best Novel.
American Gods is produced by FremantleMedia North America (FMNA). Bryan Fuller (Hannibal, Pushing Daisies, and Heroes) and Michael Green (Blade Runner 2049, Alien: Covenant, Murder on the Orient Express, Kings, and Heroes) are writers and showrunners. David Slade (Hannibal, The Twilight Saga: Eclipse) directed the pilot and additional episodes.
FMNA's Craig Cegielski and Stefanie Berk are executive producers along with Fuller, Green, Slade, Adam Kane and Neil Gaiman. Senior vice presidents of Original Programming, Marta Fernandez and Ken Segna, are the executives in charge of American Gods.
For more information, visit www.amazon.com.