Digital Entertainment on Demand (DEOD) launched on Thursday, 4 May, showcasing a brand new online platform offering quality, online streaming at an affordable price. The exciting presentation included a cameo by Kung Fu Panda and two motorbikes and was streamed live on Facebook.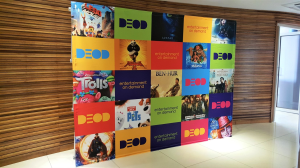 DEOD is an online platform for mobile streaming of series, news, sports, and movie rentals. The MD, Stephen Watson, said that DEOD will be a disruptive presence in the online streaming world. Consumers want to receive high-quality content, free of charge but, unfortunately, this is not possible.
"If we want to disrupt an industry, we must be disrupted ourselves. DEOD is aimed at driving prices down so that everyone can afford it."
The DEOD packages are available separately, or together – at low prices:
• News channels alone – R49 per month;
• Sports channels alone – R99 per month;
• Series and movies "on demand" – R79 per month;
• Sports and "on demand" – R159 per month;
• News and "on demand" – R99 per month;
• Whole package – R189 per month;
• Whole package (available only on weekends) – R49 per month; and
• Whole package (available only during the week) – R69 per month.
Watson gave the audience a demonstration of the platform, highlighting the fact that, unlike other similar services such as Netflix or DStv On Demand, DEOD will allow you to try out the service before subscribing – without having to give them your personal details.
DEOD allows consumers to watch the first episode of a series without having to log in or sign up, and Watson says he would love to see the rest of the industry follow this trend.
"Why don't we allow consumers to try out our product before subscribing? If the studios have done their jobs properly and ended the first episode on a cliff-hanger, and we've done our job properly, then consumers can decide for themselves if they want to sign up."
Among its offerings, DEOD features a simple user-interface with TV channels, world news, sports, and movies available.
Although TV channels are becoming a thing of the past, Watson said that some things can only be best viewed live – like news. DEOD offers channels from across the globe, including Bloomberg Africa, Aljazeera, BBC News, Russia Today, and France 24.
"Everybody deserves to have access to world news and opinions. We have almost covered the globe – and we will."
The DEOD sports channels will cover a range of sports that don't often receive coverage in South Africa, such as certain motorsports and water sports.
The sports channels include Edge Sports HD (extreme sports), Fight Box HD (boxing and martial arts), Motorvision, Nautical Channel, and SportSkool, an educational sports show aimed at building up people who cannot afford lessons.
"SportSkool is our first step towards 'edutainment'. We want to give people access to learn to excel at their sport. We have to be innovative because we are small."
The On Demand tab offers series, kids channels, and movies, as well as access to music, allowing you to build your own playlists and "make your own Mtv".
As he wrapped up, Watson mentioned that each subscription would allow up to five users on mobile devices, making it far more cost effective than most other online streaming platforms in the market at the moment.
"My whole life has been a David vs Goliath battle and as a note to the big contenders – I am not a threat. There is room for other players in the playground, so please play fair and don't be a bully."
You can view the advert here.
For more information, visit deod.tv