POWER 98.7 will, during Women's Month, bench male presenters for three consecutive days in favour of women of substance across society. These women, who range from business, politics, media and entertainment, financial, and social sectors, will take to the airwaves not as guests, but as talk show hosts from Monday, 7 August to Wednesday, 9 August.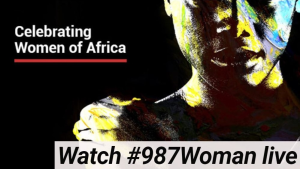 The selected women will share with POWER 98.7 listeners their experiences in play, leadership, business, politics, family, work, as well as their life interests. #987Woman is a platform to demonstrate individual women's dynamism, versatility, sophistication, and intellectual prowess.
"We are excited by yet another thrilling #987Woman line-up, which will showcase our sisters, mothers, and daughters' depth and dynamism. This fourth edition wishes to honour the women of POWER 98.7 for inspiring us and to recognise their resilience in spite of the challenging environments that they exist and operate in," says chairperson of POWER 98.7 Given Mkhari.
The #987Woman 2017 line-up includes women in business like Funeka Montjane, Mary Vilakazi, Professor Mamokgethi Phakeng, Terry Volkwyn, Mary Vilakazi, Johanna Mukoki, to mention but a few.
The public sector and political line-up includes Ministers of Communications Ayanda Dlodlo, Housing MP Dr Makhosi Khoza, MP Thoko Didiza, Public protector Busisiwe Mkhwebane, Phumzile van Damme (DA), Khusela Sagoni (ANC), and more.
The entertainment and media industry line-up includes Amanda Black, advocate Nakedi Ribane (Senthaolele), Hulisani Ravele, Siba Mtongana, Tumi Makgabo, and Mango Groove's Claire Johnson. POWER 98.7 will be welcoming these women as they prepare to share with POWER 98.7listeners their powerful and inspiring stories of women of South Africa.
For more information, visit www.power987.co.za.