American folk rock band The Lumineers is returning to South Africa for its Cleopatra World Tour, powered by 5FM, in April. The events will take place in Cape Town on Wednesday, 26 April at Green Point Park and in Johannesburg on Friday, 28 April at Ticketpro Dome.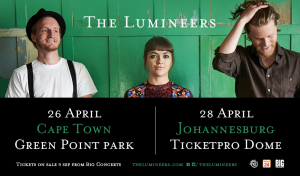 5FM
 is offering their listeners the opportunity to choose the opening local act for The Lumineers. Six up and coming bands have been identified and listeners will be asked to vote for them via the 
5FM
 app from Monday, 6 February.
From the votes, three of the front-running bands will be announced and The Lumineers will choose the eventual opening act for the tour. The six bands in the running are Sean Kock Trio, Opposite the Other, Sannie Fox, Early Hours, Alice Phoebe Lou, and The Shabs.
For the next three weeks on every Tuesday and Thursday, kicking off on Tuesday, 7 February, each of the bands will be interviewed by Nick Hamman, who will also play their song. Each band's music will also be played on The Forbes and Fix Show and listeners will be asked to vote for their favourites. The opening act will be announced on 5FM on Monday, 13 March.
For more information, visit www.5fm.co.za.