5FM is giving its youthful listeners an opportunity to live their radio dream and live loud with the radio station. On Friday, 16 June, eight youthful South Africans will have a chance to take over the 5FM airwaves between 06:00 to 18:00 alongside 5FM DJs.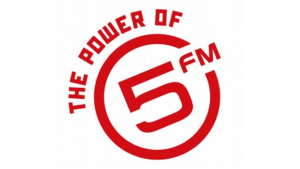 Starting with The Roger Goode Show at 06:00, followed by HammanTime at 09:00, The Forbes & Fix Show at noon, and ending with The Thabooty Drive at 15:00, 5FM will have two people join the teams on each show.
The station invites youth, who will be known as the 'Five Squad', between the ages of 15 to 20 to send a voice demo or voice note of no more than three minutes (and no bigger than 6MB) to liveloud@5fm.co.za. The entry should include a short motivation as to why they should be a 5FM DJ for a day.
Entrants will need to be based in Johannesburg or Cape Town, or able to get to the respective studio after school or campus on Thursday, 15 June as well as on Friday, 16 June for the show they will be chosen to participate in.
For more information, visit www.5fm.co.za.