27 For Freedom will take place just outside of Cape Town in the Drakenstein area, where Nelson Mandela was released from Victor Verster prison (now Drakenstein Correction Services), and it aims to keep his legacy alive through various activities.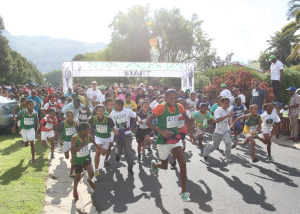 Saturday, 11 February, will mark the 27thanniversary of former President Nelson Mandela's historic release from the then Victor Verster Prison and his internationally acclaimed and revered 'walk to freedom' after 27 years in prison.
It is against this background that a series of activities will take place from Saturday, 4 February to Sunday, 12 February with the aim to signify Mandela's triumph. The 27 For Freedom Race and associated events strive towards building sustainable relationships across all government spheres, corporate South Africa and the community.
The programme is as follows:
Saturday, 4 February 
In an attempt to promote social cohesion and individual wellness, 16 teams will compete for the inaugural 27 for Freedom 7's Cup. The competition will have a three-legged approach, with different competitions for primary schools, high schools, and senior clubs within the precincts of the Boland and Western Province Rugby Federations.
Monday, 6 February to Thursday, 9 February
27 for Freedom Arts Exhibition & Poetry Competition will revolve around different genres of art and literature with the aim to promote innovation and creativeness amongst children and the youth. Children and youth from surrounding communities will attend a series of workshops on the various art types and writing retreats with the intention to use art and poetry as catalysts of social change.
Saturday, 4 February and Saturday, 11 February

The Freedom Chess Tournament will play off in 27-minutes aside rapid chess games aims to strengthen efforts made to enhance the ability of children and the youth to think critically, to strategise, to solve problems, and to concentrate.
Thursday, 9 February
The 27 for Freedom Memorial Lecture will take place and is not only to recognise the efforts and achievements of Mandela but also to reiterate the importance of social cohesion in a diverse society like South Africa.
Saturday, 11 February
The 27 for Freedom Race will take place on Saturday, 11 February and is endorsed by the Nelson Mandela Foundation, the Sexwale Foundation, Athletics South Africa (ASA), and the Confederation of African Athletics (CAA).
For more information, visit www.27forfreedom.co.za.